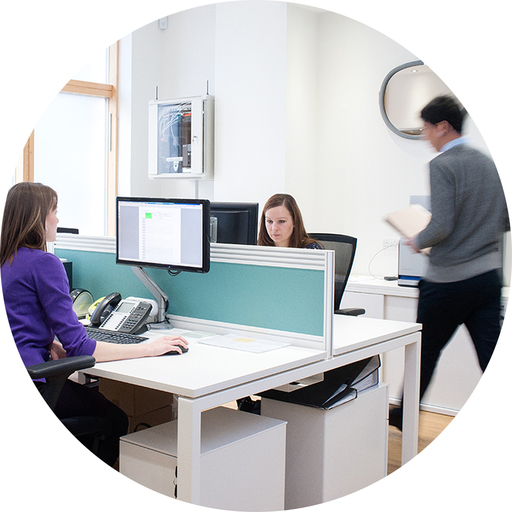 The Team
Our specialist team aims to deliver a personalised service and the very highest quality of care. Working together effectively, we are here to look after you and to help Mr Stevens give you the best possible vision. The team has a wealth of knowledge about vision correction procedures gained from many years of experience. This unique combination of skills and expertise is a result of dedicated patient care, specialist training, and working alongside Mr Stevens within a centre of clinical excellence.
Janet Bartlett
Inpatient Surgery Co-ordinator & PA to Mr Stevens
Janet looks after our cataract and lens patients, and supports Mr Stevens and our clinical team. Janet is highly experienced and is very knowledgeable about our procedures.

Natasha Ahorituware
Laser Coordinator/ Practice Manager
Natasha has joined the team and coordinates excimer laser enquiries and treatments. Natasha can resolve issues you may have or assist in any aspect of our service whilst you are a patient of the practice.

Magdalena Badek
Practice Admin Co-ordinator & Accounts Assistant
Magda organises our office and provides admin support for the whole practice. She is highly knowledgeable and can help with appointment booking, billing and general enquiries.
Bonnie Delgadillo
Data Assistant
Bonnie helps produce the data Mr Stevens needs to audit his results. He also electronically scans our paper records to make our office more efficient.
Ophthalmic Technicians
You will meet one of our highly skilled ophthalmic technicians at the start of your consultation and they will capture the detailed scans required by Mr Stevens. Our technicians are very experienced, having worked for many years in ophthalmic clinics with Mr Stevens. They have completed specialist training and understand the level of accuracy required to achieve the best results.
Ulfat Salim
Senior Ophthalmic Technician

Sharon Chana
Ophthalmic Technician
Specialist Optometrists
Our specialist optometrists have extensive experience and advanced training in refracting (sight testing) patients pre and post refractive surgery. They are also highly skilled at assessing cataract and corneal surgery patients. With many years of experience working with Mr Stevens, our optometrists are highly knowledgeable about vision correction procedures. You will meet one of our specialist optometrists for a detailed refraction (sight test) during your consultation.
Krupa Vyas
Specialist Optometrist

Tejinder Kahlon
Specialist Optometrist

Shakti Vyas
Specialist Optometrist
Nunu Braddick
Specialist Optometrist

Janice Oster
Specialist Optometrist
Consultant Colleagues
Mr Alex Day has had research studies with Mr Stevens and regularly presents findings at clinical meetings. Miss Nicola Lau is Consultant Ophthalmic Surgeon at Moorfields Eye Hospital and has also been involved with research and supports Mr Stevens with the latest studies.
Mr Alex Day PhD, FRCOphth.
Consultant Ophthalmic Surgeon

Dr Nicola Lau FRCOphth.
Consultant Ophthalmic Surgeon